blog
The EventPipe Story: Celebrating Our Millionth Reservation
Mike Addesa |
How We Got Here
Welcome to the very first post on the EventPipe blog! And what better way to make an entrance than by raising a toast to our millionth reservation, a milestone that underscores our commitment and dedication to serving this industry. As we move forward, this blog will provide valuable insights into travel, hospitality, technology, youth sports, and more. But first, let's take a walk down memory lane and share the story behind EventPipe.
I come from a passionate hockey family. So much so that we own and operate Hockey Night in Boston, the longest-running high school hockey tournament in New England. As a lifelong software developer, I naturally wanted to integrate technology into this tournament as much as we could. So a small side project eventually blossomed into the HNIB mobile app, which helped to reduce costs and made the overall tournament experience for players and parents a memorable one.
In thinking about what we could do next with technology at HNIB, we learned a lot about event housing. It didn't take us long to realize that the realm of event housing was complex and crying out for a modern solution. The existing software solutions fell short of our expectations, often outdated and requiring us to juggle numerous systems.
In our quest for improvement, we were introduced to and decided to partner with our amazing friends over at Team Travel Source to build a software solution that solved these problems. Being one of the top housing companies in the country, the whole team there had an incalculable amount of experience and knowledge. We couldn't think of a better partner to be our anchor customer.
From there, on January 1, 2020, on the eve of the looming Covid pandemic, we started building the EventPipe product– fine timing to start working on a product that supports travel! But we forged ahead, and in July 2020, we launched our private beta.
Initial Launch, Seed Funding and a New CEO
After a year in private beta, it was time to officially launch.
At Connect 2021, in Tampa, Florida with over 5,000+ event planners and hotel sales teams, we hosted an amazing launch party and officially made EventPipe available to the market.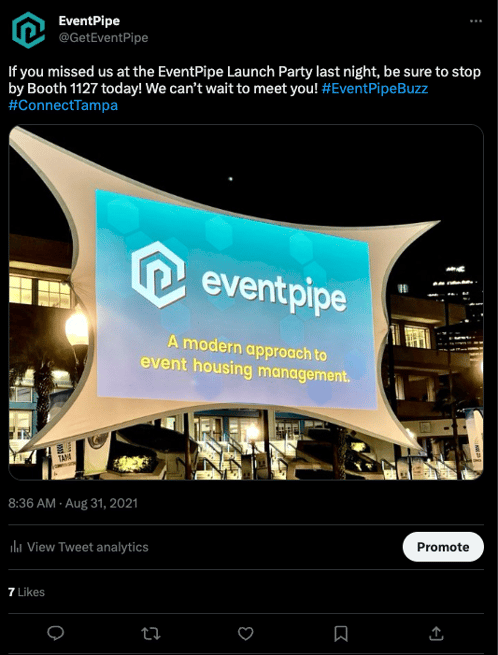 After seeing some promising initial adoption and traction with our platform, in August of 2022, we received $2.2 million in seed funding from Velocior Ventures while also bringing on a new CEO, Tim Brown. Tim is an experienced and accomplished software executive having most recently served as the head of corporate development and as Chief Financial Officer at Motus, where he led the company through multiple financings and acquisitions.
By the end of 2022, we released new product features like our RFP, invoicing and accounting tools, allowing our customers to manage the entire event housing lifecycle in a single clean platform. Meanwhile, we drove our gross hotel booking value to an annualized $209 million. We also added six new team members to the EventPipe squad.
1 Million Reservations Down, Millions More to Come
As of June 2023, we're excited to report that EventPipe has reached the exciting milestone of 1 million reservations made through our platform! Additionally, we've helped our customers with thousands of events, booked almost three million room nights, and facilitated over half a billion dollars in hotel bookings!
We've added over 50 happy customers to our platform across all sorts of verticals including more housing companies, event producers, associations, wedding planners and CVBs.
It's been quite the journey thus far, but in reality, we're just getting started! We look forward to earning and maintaining our position as the preferred software solution for event hotel bookings. In the months to come, we're excited to roll out several new products and features to help our customers easily manage their hotel bookings for their events. Stay tuned!
---